Every night, just before I lie down to sleep, I put my pillow on the "wrong" end of the bed, pour myself a glass of water, get butt naked (because #heat) … and reach for my earplugs. I've always been a pretty light sleeper, waking up from even the slightest movements around me, always afraid I would miss out on something (yes, FOMO was indeed a thing long before this alien abbreviation came into being). So ever since I started using earplugs, completely shutting myself off from my surroundings over night, I started to sleep like a baby.
When I came to Barcelona I wasn't aware of just how much this little night routine of mine would save me from going full on bonkers in this city. I think most people know what it's like not to get enough sleep (for whatever reason) and thus not feeling like yourself throughout the day. Well, whenever I don't get my eight to nine hours of baby sleep, I turn into a zombie – or rather a senile person, who sometimes even seems to forget her name and should by no means be let out into the open world where there's cars, streets, people and … yeah … general decision-making. But that's just that on my ridiculous need of some good sleep.
So whenever I don't use my earplugs because I fall asleep watching some series or simply don't feel like it (yes, that happens, too), a whole new world of night-time sounds opens up to me. I live in a small, rather dark room (I like to call it minimalist. It helps.) with a little balcony that opens up into a tiny patio. In our building, every kitchen, toilet and bathroom window is facing this space of nothingness (aka the place where I dropped my flatmate's sock while hanging clothes – yes, I'm sorry. AGAIN.). The neighbour's window on the opposite side is probably not even two meters away from my balcony. Thus, whenever I don't have my earplugs in at night, life gets interesting: on a regular basis, I get woken up by one of my neighbours either blending food in the kitchen way past midnight or having what seems to be amazing sex (that couple must have moved out though – long time no hear). Sometimes I also hear them sitting on the toilet watching YouTube videos (well, that's mostly one of my flatmates again to be honest). Other times I even wake up to their alarm, if not to them snoring. So yeah, sometimes I feel like I live not just with three other people but rather with at least five families. The Spanish dream.
(To be fair, I'm probably not better myself, regularly preparing smoothies at 8am on Sundays.)
All of the above described sound effects present a perfect example of what it is like to live in Barcelona in general. This is one freakishly busy and loud city. Don't get me wrong, I do LOVE this city, and I do know this is just what I – willingly or not – signed up for. But MAN, do I need a break sometimes. If you never ever EVER (I'm all about emphasising these days) have at least a minute or two of pure and simple silence going on for you, you end up a crazy person. Trust me, I am one either way.
So, when two of my flat mates invited me along to a little weekend trip to Vielha, which is located up North, only 15 minutes away from the Spanish-French border, I was OVER THE MOON! Mountains, you say? Woods? Nature? Yes, please!
We left around late afternoon on Friday, August 12th, spent about four to five hours driving up there, ending up in the most beautiful mountain scenery with Vielha in the midst of it. It was already getting dark when we arrived and since all of us were pretty tired anyways, we simply dropped off our bags at a friend's house and prepared ourselves some dinner. A couple hours later we got back into the car and drove up the mountains a little more in order to drink some wine and watch the shooting stars that were announced for that night. It was my first time ever seeing this spectacle, so I was pretty excited. Since it was freezing up there and we didn't even remotely bring enough wine to lead our bodies to believe it was indeed warm, the four of us only stayed cuddling in the grass (#bodywarmth) for about 20 minutes.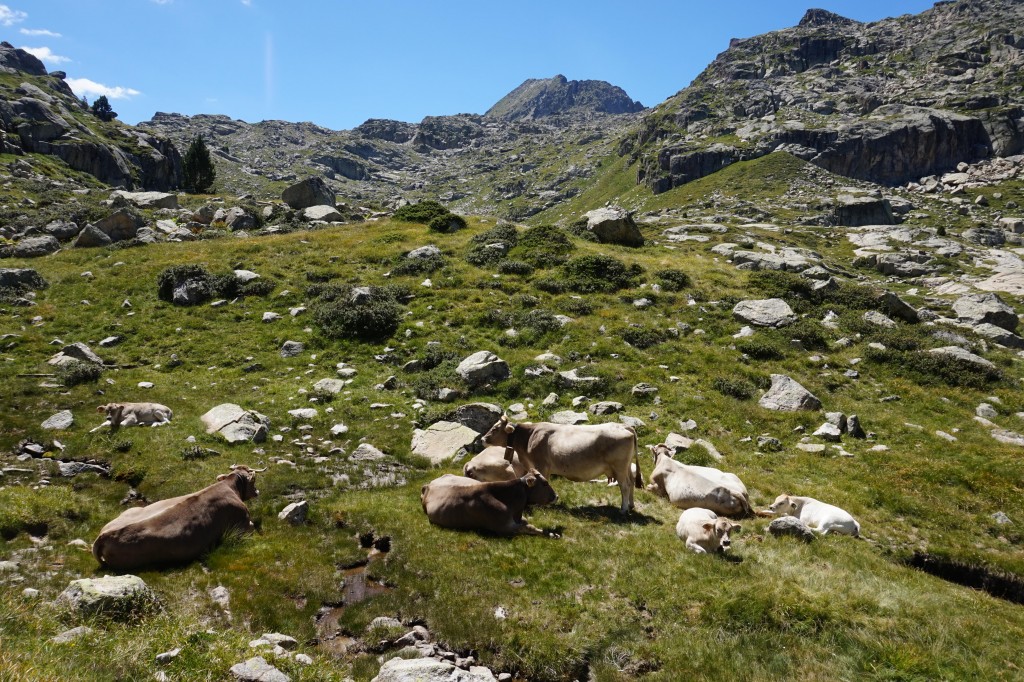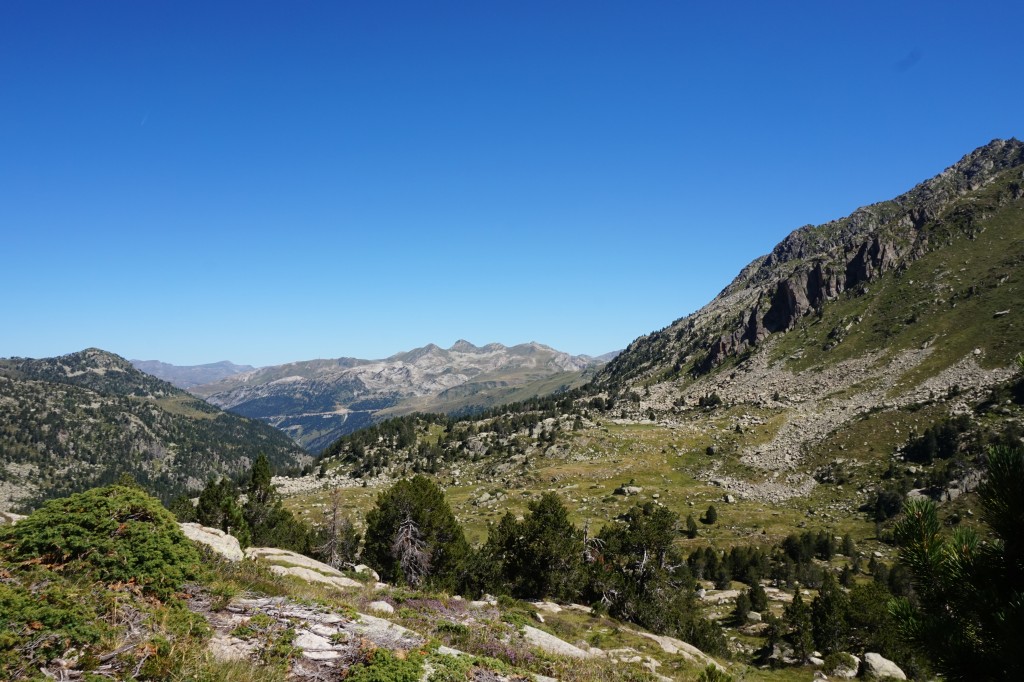 The next day was a particularly special day: we went hiking. I will not say too much because I think the pictures say it all, but I will say the following: that hike was exactly what I needed. We spent the whole day hiking – it must have been five to six hours of going up and down, of climbing rocks, of being in the moment, of enjoying, of talking, of silence. It was b-e-a-u-t-i-f-u-l. When we made it to the mountain shelter, which was located just nearby a huge mountain lake, we sat down on some rocks in the shades, put our feet into the ice-cold lake, unpacked our huge bocatas and … just. ate. Even though the whole trip was amazing, this was by far my highlight. We didn't even talk much during our break – we just ate, somewhat tired of the hike in the midday heat, enjoying our surroundings.
On Sunday we had an amazing barbeque at a friend's place, ate great food, annoyed each other with some water guns and just hung out after our hike the day before. Also, the night before, the others ended up partying until 5.30am (when I was already sound asleep for hours and hours #grannylife), so none of them were too excited of doing anything else that day. However, in the late afternoon, one of my Spanish brothers showed me around town and we ended up doing a little unplanned hike.
On Monday, the last day of our trip, we packed up the barbeque crew from the day before and drove to Argelés-sur-Mer, France to do some canyoning. To be honest, I didn't know what I was getting myself into until we arrived. I have only heard of the term itself, but had absolutely no idea what it really was. I kind of let life surprise me. And it was SO MUCH FUN. Even though I had to wear a wetsuit and I bruised my nose quite a bit when jumping down from up to 10 meters and hitting the water a little too hard with my face.
Unfortunately, I'm still waiting for the pictures that one of our friends took with his Go Pro, but I will definitely upload some of them once I get a hold of them.
After three days up North, we eventually had to get back into the car to drive back home. During the whole time in the backseat, I wasn't quite sure if I was yet ready to dive back into this beautiful, loud, crazy place called Barcelona. I'm not gonna lie – I did enjoy my downtime. Even more so since they stole my phone a week before leaving and I thus spent a whole weekend offline. I felt at peace again. Recharged. Ready.
Once we approached Barna, I couldn't help but smiling. This place really is my home now.